fotos de animales silvestres de ARGENTINA

photos of wild animals of ARGENTINA




Mamíferos / Mammals
Orden: Lagomorpha / Order: Lagomorpha
Liebres, conejos / Hares,rabbits

LAS FOTOS DE ESTE SITIO HAN SIDO TOMADAS POR A. EARNSHAW - ALL PHOTOS IN THIS WEBSITE TAKEN BY A. EARNSHAW
(c) Alec Earnshaw 1992-2015



Familia: Leporida - Liebres, Conejos
Family: Leporidae - Hares, Rabbits

El Conejo Tapetí es la única especie del orden Lagomorpha que es nativa de Argentina
The Tapeti Rabbit is the only species of Lagomorpha that is native to Argentina


Conejo Tapetí
Sylvilagus brasiliensis
Tapeti Rabbit

Reserva "El Loro Hablador", Chaco
9/2002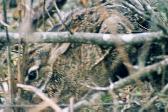 Conejo - ESPECIE INTRODUCIDA
Oryctolagus cuniculus
European Rabbit - INTRODUCED SPECIES
Panasonic Lumix FZ30 + DMW-LT55 teleconverter 1.7x
Ushuaia, Tierra del Fuego - 18-11-2010
| | |
| --- | --- |
| PN Tierra del Fuego - 3/2008 | Ushuaia, Tierra del Fuego -11/2010 |
| | |
Ushuaia, Tierra del Fuego - 3/2011
Liebre Europea - ESPECIE INTRODUCIDA
Lepus europaeus
European Hare - INTRODUCED SPECIES
Panasonic Lumix FZ30 + DMW-LT55 teleconverter 1.7x
Perdices, Entre Ríos - 23-12-2007
Reserva Provincial Cabo Dos Bahías,
Camarones, Chubut - 2/2006

Reserva Provincial Cabo Dos Bahías,
Camarones, Chubut - 2/2006
Perdices, Entre Rios - 12/2007
La Liebre Europea no es nativa de Argentina. Fue introducida en 1888 con ejemplares provenientes de Hamburgo y liberados
en una estancia en Cañada de Gómez, Santa Fé. Tras multiplicarse, hoy se encuentran distribuidos en casi todo el país.
Fuente: 100 Mamíferos Argentinos - Marcelo Canevari & Carlos Fernández Balboa - Coordinador de la colección: Tito Narosky

La introducción de especies de un lugar a otro siempre acarrea riesgos, ya que frecuentemente se expanden de manera descontrolada,
generando diversos tipos de problemas: ya sea por que compiten con la fauna local, o se convierten en plaga para las actividades
agropecuarias (por lo que son combatidos con venenos que dañan también a otros animales silvestres), etc. Muchas veces esa competencia
con la fauna local termina perjudicando seriamente a las especies nativas y, a veces, acercándolas a la extinción.
Y una vez "sembrado" el problema, muchas veces resulta imposible volver atrás.

The European Hare was introduced in Argentina in 1888. The specimes came from Hamburg and went free on a farm in Cañada de Gómez,
on the province of Santa Fé. Having multiplied, the are now to be found accross most of the country.
Source: 100 Mamíferos Argentinos - Marcelo Canevari & Carlos Fernández Balboa - Collection coordinator: Tito Narosky

Introducing species into a country is a dangerous game, since the new arrival often expands out of control to cause innumerable problems.
Sometimes they compete with the local fauna, causing the to disssapear, or they become a pest for farmers, so poison traps are set which may be taken by other animals.Once the nre species in seeded, it is usually impossible to backtrack.
Volá con nosotros: unite a
Aves Argentinas
(Asoc. Ornitológica del Plata)
La ONG que protege a las aves silvestres y sus ambientes naturales
Help by joining Aves Argentinas, the argentinian NGO for birding and bird conservation