fotos de animales silvestres de ARGENTINA

photos of wild animals of ARGENTINA

Mamíferos / Mammals
Orden: Artiodactyla - Order: Artiodactyla
Ungulados Paridigitados - Even-toed Ungulates
LAS FOTOS DE ESTE SITIO HAN SIDO TOMADAS POR A. EARNSHAW - ALL PHOTOS IN THIS WEBSITE TAKEN BY A. EARNSHAW
(c) Alec Earnshaw 1992-2017
Familia: Camelidae (Guanacos)
Family: Camelidae (Guanacos)
Guanaco
Lama guanicoe
Guanaco
Panasonic Lumix FZ30 + DMW-LT55 teleconverter 1.7x
San Sebastian, Tierra del Fuego - 7-02-2008
Ver más fotos de esta especie
See more photos of this species
Al llegar los Españoles a America se estima que la población de guanacos rondaba los 30 a 50 millones de animales.
En 1982 la población se estimó en aprox. 500.000, vale decir el 1% de la original, y bajando. ¿Cuando se detiene esto?
When the Spanish arrived in America there were an estimated 30-50 million guanacos.
In 1982 the population was estimated to be approximately 500,000 (barely 1% of what it was) and declining. When will this stop?

Vicuña
Vicugna vicugna - Lesson, 1842
Vicuña
Canon EOS 7D + Canon 300mm f/4 L IS + Extender EF III 1.4x
Ver más fotos de esta especie
See more photos of this species
SOBRE LA LLAMA Y EL ALPACA:
La Llama y el Alpaca fueron domesticados durante el período incaico hace miles de años.
Se sabe que la Llama se originó a partir de la domesticación del Guanaco. Respecto al Alpaca hay diversas teorías: que es fue domesticado a partir de la Vicuña, una cruza de Llama y Vicuña, o también descendiente del Guanaco.
ABOUT LLAMA AND ALPACA::
T he Llama and Alpaca were domesticated by the Incas thousands of years ago.
It is known that the Llama originated by the domestication of the Guanaco. With the Alpaca there are various theories: that it was domesticated from Vicuña, a cross between Llama and Vicuña, or perhaps also descending from Guanaco.
Llama
Lama glama
Llama
Especie domesticada - Domesticated species
Canon EOS 7D + Canon 300mm f/4 L IS + Extender EF III 1.4x
Ver más fotos de esta especie
See more photos of this species
Alpaca
Lama pacos
Alpaca
Especie domesticada - Domesticated species
Canon EOS 7D Mk II + Canon 100-400 f/4:5-5.6 L IS II USM + Extender EF III 1.4
Marcapomacocha, Perú - 20-09-2016
EN CAUTIVERIO - CAPTIVE - Zoo "EL PRETIL", Copiapó, CHILE - 5/2008
Familia: Cervidae (Ciervos, venados, corzuelas)
Family: Cervidae (Deer, brockets, etc.)
Ciervo de los Pantanos
Blastocerus dichotomus
Marsh deer, Swamp deer
Canon EOS 7D + Canon 300mm f/4 L IS + Extender EF III 1.4x
Colonia Carlos Pellegrini, Corrientes - 24-03-2012
Ver más fotos de esta especie
See more photos of this species
Ciervo Axis
Axis axis
Axis deer
Canon EOS 7D Mk II + Canon 100-400 f/4:5-5.6 L IS II USM + Extender EF III 1.4
El Potrero, Gualeguaychú - 30-12-2016
Corzuela Parda
Mazama gouazoupira
Brown brocket deer
Panasonic Lumix FZ30 + DMW-LT55 teleconverter 1.7x
Tierra del Fuego - 7-02-2008
Iberá, Corrientes - 1/2009 - (macho - male)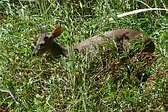 Corzuela Colorada
Mazama americana
Red brocket deer
Canon EOS 7D + Canon 300mm f/4 L IS + Extender EF III 1.4x + Canon Speedlite 580EX II flash

RP101, Misiones - 2-05-2014
Volá con nosotros: unite a
Aves Argentinas
(Asoc. Ornitológica del Plata)
La ONG que protege a las aves silvestres y sus ambientes naturales
Help by joining Aves Argentinas, the argentinian NGO for birding and bird conservation