Albatros Real [Recién liberado tras intento de recuperación]
Diomedea epomophora epomophora
Royal Albatross (just released after recovery attempt in captivity)
Camarones, Prov. de Chubut (Arg) 1/1998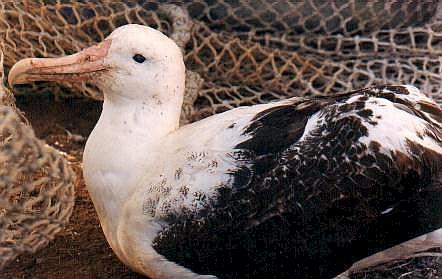 Pancho fué hallado moribundo en una ladera por Jorge Lopez Cross, el guardaparques de la desolada Reserva Provincial "Cabo Dos Bahías", próxima a Camarones, Prov. de Chubut, Argentina. Esta rica area protegida custodia una pinguinera y una lobería, donde abundan guanacos, choiqués y maras. Fue un hallazgo inusual, por que Pancho era un Albatros Real (Diomedea epomophora), especie que muy raramente se acerca a la costa en esas latitudes. Estos albatros son una de las aves de mayor envergadura alar que existen: ni mas ni menos que 3 metros! Pancho estaba mal herido y ciego en un ojo. Jorge y su mujer improvisaron una jaula con un armazon de hierro y viejas redes de pescador. Allí lo atendieron cuidadosamente, alimentándolo a mano durante algunas semanas a base de merluza cruda que Jorge adquiría con sus propios fondos.

Pancho was found nearly dead on a cliffside by Jorge Lopez Cross, warden of the provincial reserve of "Cabo Dos Bahías", close to Camarones, Province of Chubut, Argentina. This protected area contains penguin and sea lion breeding grounds, and is inhabited by Lesser Rheas, Guanaco llamas and Mara hares. The bird was an unusual finding, for Pancho is a Royal Albatross (Diomedea epomophora), a species that very rarely comes close to land at these latitudes. This species boasts one of the largest wingspans of any bird: 3 meters. Pancho was wounded, and was blind in one eye. Jorge and his wife improvised a cage out of a metal frame and old fishing nets. Then Pancho was hand-fed with raw hake for several weeks, funded by Jorge.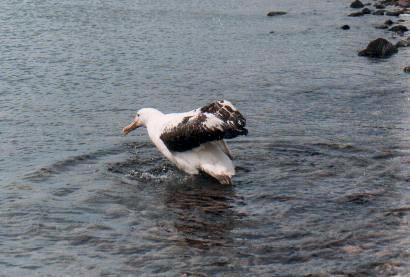 Panch recuperó fuerzas. Finalmente Jorge consideró que había llegado el momento oportuno de la liberación. Para el inusual evento se convocó a todos los que habían asistido, y también a la radio local. Pancho fue liberado a la orilla del mar desde su caja de madera, en una caleta. La foto muestra el momento preciso en que recupera su libertad. Expresó su felicidad agitando su rabo como hubiera hecho cualquier cachorro.

Pancho recovered some strength, and finally Jorge decided the time had come for his release. All who helped in the recovery effort were invited for the special occasion, including the local radio. Pancho was released from his wooden box by the water's edge in a closed bay. As he recovered his freedom and happiness he briefly wagged his tail, just like any puppy would do.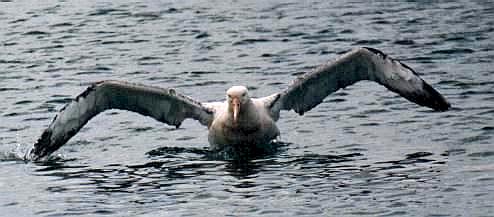 Pancho se alejó de la costa, y pronto dio media vuelta para enfrentar el viento. Una y otra vez desplegó su enorme barrilete intentando tomar vuelo, y ayudándose con pataleos y "pisadas" sobre el aguas. Pero no logró volar. Lo seguimos durante 2 horas, mientras los vientos lo llevaron mar afuera, hasta una restinga rocosa. Tal vez los vientos más fuertes del día siguiente le sirvieron para tomar de nuevo a los aires y surcar los océanos, donde pertenece.

Pancho swam out a little, and soon turned back to face the wind. Time and again he (she?) unfurled huge wings, paddled and "trod" the waters in an attempt to get aloft - but to no avail. We followed Pancho from the coast for 2 hours as the winds took him out to a rocky promontory. Perhaps stronger winds next day helped him get into the air to wonder the seas again.
Los albatros estan actualmente en serio riesgo debido a técnicas de pesca (Palangre) que estan causando la muerte de un número alarmante de ejemplares. De hecho en la última edición del Libro Rojo - 2001 (que lista los animales en peligro de extinción) fué necesesario incluir 7 nuevas especies de albatros que no estaban en peligro hace apenas 2 años. Los investigadores estan alarmados por semejante caida.
Aves Argentinas, la ONG que se ocupa de la conservación de las aves silvestres en la Argentina, está reclamando leyes que obliguen a tomar en cuanta ciertas simples precauciones que virtualmente eliminan el problema de la captura incidental de aves marinas por la pesca de palangre. Esto es parte de una iniciativa mundial coordinada por la prestigiosa entidad BirdLife International, siendo Aves Argentinas la socia local.

Albatrosses are currently facing serious danger due to new fishing practices (Longlining) that are causing the death of an alarming number of individuals. The latest edition of the Red Book - 2001 (that informs on endangered species) included 7 species of albatross that were not endangered 2 years ago. Marine biologists are dismayed by this downfall.
Aves Argentinas, the NGO for bird conservation in Argentina, is pressing for laws to enforce a number of simple precautions that substatially eliminate longlining bycatch.This is part of a world-wide initiative to save the Albatrosses, coordinated by the prestigious organization BirdLife International, of which Aves Argentinas is the local partner.