fotos de animales silvestres de ARGENTINA

photos of wild animals of ARGENTINA
Aves - Birds
PASSERIFORMES - PASSERIDAE
Gorriones - Sparrows
FAMILIA ANTERIOR

PRÓXIMA FAMILIA

PREVIOUS FAMILY

NEXT FAMILY
Mis fotos de algunos
gorriones
de Argentina.
¡Reconocer las aves ayudará con su conservación!
¿Visitaste el
Portal
?
Here are my photos of some
sparrows
of Argentina. For more info on birding in Argentina please visit the
Home page
.
LAS FOTOS DE ESTE SITIO HAN SIDO TOMADAS POR A. EARNSHAW - ALL PHOTOS IN THIS WEBSITE TAKEN BY A. EARNSHAW
(c) Alec Earnshaw 1992-2012
Orden:
Order:

Passeriformes

Familia:
Family:

Passeridae

Gorriones
Sparrows
Nota: El Gorrión es una especie introducida desde Europa. Ha colonizado parcticamente
todas las areas del país, viviendo siempre en proximidad del hombre.
Note: The House Sparrow is a European species introduced in Argentina. It has conquered
nearly every corner of the country, found in cities and wherever there are people.
Gorrión
Passer domesticus
House Sparrow
Macho - Male

Costanera Sur, Buenos Aires - 1/2006

Costanera Sur, Buenos Aires - 6/2006

Olivos, Buenos Aires - 6/2006
| | | |
| --- | --- | --- |
| Olivos, Buenos Aires - 7/2007 | Olivos, Buenos Aires - 7/2007 | Lag. de Palermo, Buenos Aires - 6/2008 |
| | | |
Costanera Sur, Buenos Aires - 1/2006
Hembra - Female

Costanera Sur, Buenos Aires - 6/2007
Hembra - Female

Lag. de Palermo, Buenos Aires - 6/2008
Hembra - Female
Costanera Sur, Buenos Aires - 8/2008
Ribera Norte, Acassuso, Buenos Aires - 9/2009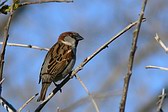 Volá con nosotros: unite a Aves Argentinas (Asoc. Ornitológica del Plata)
La ONG que protege a las aves silvestres y sus ambientes naturales
Help by joining Aves Argentinas, the argentinian NGO for birding and bird conservation